Description
PRODUCT DESCRIPTION
DURA♦SKRIM® 2FR and 10FR CLICK HERE FOR FULL SPECIFICATIONS.
consist of two sheets of highstrength
fire-retardant virgin
film laminated together
with a third layer of molten
polyethylene. A heavy-duty
scrim reinforcement placed
between these plies greatly
enhances tear resistance
and increases service life.
DURA♦SKRIM's fire-retardant
films meet or exceed NFPA's 701
test, method 2 (Large Scale Requirements).
PRODUCT USE
DURA♦SKRIM® 2FR and 10FR are used in applications that
require a fire-retardant material, and demand high puncture
and tear strengths.
SIZE & PACKAGING
DURA♦SKRIM® 2FR and 10FR are available in a variety of widths
and lengths. Large pre-fabricated panel sizes up to 100,000 square
feet are available. All panels are accordion folded and tightly
rolled on a heavy-duty core for ease of handling and time saving
installation.
APPLICATIONS Construction Enclosures Asbestos Abatements Fumigation Covers Temporary Walls Curtains Job Site Coverings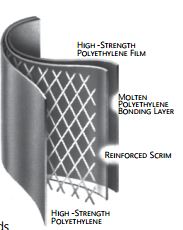 View All
Close